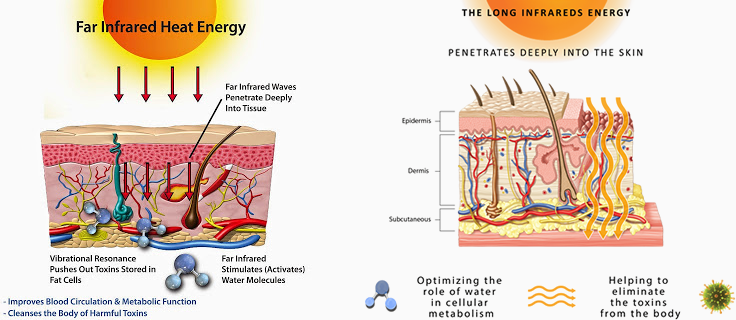 Sweating is a critical human detox function, yet most people don't sweat regularly or enough. Sweating helps the body make use of its ability to use the skin to eliminate toxins. The body is very effective at eliminating toxins this way, but it only works if we make the body sweat.
Worse, many of us sit at desks all day, and in air-conditioned indoor environments. In these conditions, the skin stores the toxins with little opportunity to eliminate them.
To combat these effects, infrared sauna systems help us to purify our bodies from the inside out.
Benefits of the far infrared spectrum on the body include:
– Detoxification
– Lowered blood pressure
– Relaxation
Infrared light, experienced as heat, is the invisible part of the sun's spectrum and is necessary for all living things. Far infrared has the ability to penetrate human tissue providing a deep, detoxifying sweat. Far infrared saunas are the most common on the market.
Ready to Sweat?
Infrared saunas are more effective at stimulating detoxification and gentler on the body than traditional hot rock saunas, steam rooms, and hot tubs. Deep, cellular sweating is key to detoxify and energize your body!
Health Benefits of Infrared Sauna Detox
Sweating is good for you. Sweating is one of the body's safest and most natural ways to heal and maintain good health. And that's why every Sunlighten detox sauna is specifically designed to promote a deep, healthy and natural detoxifying sweat.
"Detoxification is important because it strengthens the body's immune system and helps the body's biochemical processes function efficiently so that we are better able to digest the nutrients in our foods. Detoxification has also been shown to be helpful with colitis, chronic fatigue, fibromyalgia, auto-immune disease, immune deficiency states, autism, ADD and ADHD." – Dr. Rachel West